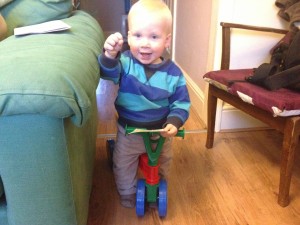 We have a policy of not uploading many photos and videos of Isaac to social media.  We probably also have an unstated policy of not getting involved in too much marketing. BUT…we think that the Toddlebike is a brilliant idea and we wanted to try one out, so we've broken both rules and signed up to join the 2013 Toddlebike Trial.
The trial gets you a free Toddlebike on loan for you to try out on the basis that you submit some photos and let them know how you get on with it.  The trial wanted "active, independent toddlers", and we thought that Isaac fitted the bill perfectly. Plus, me loving cycling and all, I thought getting him on a "pre-balance bike" would be great.
Anyway, we signed up and got selected!
The box arrived and Isaac took great interest in it.  Isaac is one of the youngest in the trial, and he's quite small for his age too, so he's not up to sitting on the saddle yet.  But he intuitively seemed to know what to do with it (other than sitting on it backwards at first) and took it for a spin as soon as it was out of the box.
We captured it on video for the trial project and we think it's the ONLY VIDEO OF ISAAC ON THE INTERNET!!!  You may have the delight of watching him above!
After the initial enthusiasm Isaac hasn't paid the bike too much attention. It's an interesting object, but not yet one of his favourites.  But it is a "thing with wheels" and I'm sure it will captivate him at some point.  Plus, once he gets the idea that he can scoot around on it, I'm sure he'll love it.
Jo, who sells the bikes, is running a great social media campaign here with no training in the technology at all. And she's doing a great job.  I'm looking forward to taking part! 🙂