Crop circles were big in Wiltshire when I was a lad. Really big.
And one of Wiltshire's biggest towns, my home town of Swindon, is really big on roundabouts.
Co-incidence? Well…I've always said that there was a link. Crop circles seem to be an ideal way for traffic planners to try out new layouts in life-size arrangements.
And now, someone on the cycle chat forum has made that link too! (link care of Jim Davis)
Here's the evidence that I have to present: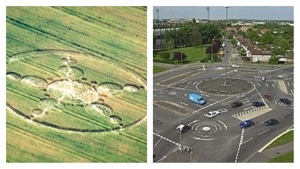 (Both photos published with permission of and thanks to Calyx Multimedia)