So if I'm going to take this sketching thing seriously, I'll need some tools.
Fortunately, I recently had a birthday, and I'd carefully primed my lovely wife with some ideas for presents.
And so it was with great delight that I received a beautiful Moleskine sketchbook, some fine-point rollerball pens, and a pack of grey markers.  These to add to the small sets of fine-point and ultra-fine point Sharpie markers that I already had waiting to go.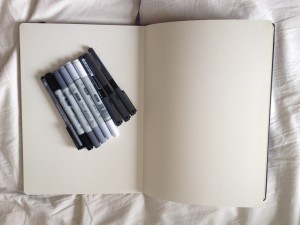 Pens have always been a bit of an obsession of mine. I LOVE a good pen. And so exploring the world of technical and drawing pens again is great fun.  Rollerballs and markers work in such different ways, and there's actually a huge variety of different types of nib: nylon, ballpoint, chunky marker, brush-type marker. All waiting for me to experiment with.
All I need now is some pencils!