Woo hoo! I've actually made a real, properly useful, standalone, WordPress plugin!  Here's what and why.
What?
It's a plugin that gives you a dashboard widget, very similar to the "Quick Draft" widget, that lets you post a "Quick Image".
You enter a title, use the media uploader/chooser to add or select an image, and, optionally, enter a description too.
Then you click "Publish this" and the (very tiny bit of) magic happens: A new post is created with the title and content that you specified, and the post has the selected image set as the featured image.
Like this:
Why?
Basically because I don't like Facebook. And, in particular, I don't like uploading images to Facebook. So I've taken to publishing photos on my blog and then getting Facebook to display the image from there, making use of the information that Facebook sucks in through OpenGraph when you paste a link.
Here's what a pasted link looks like when it ends up in Facebook: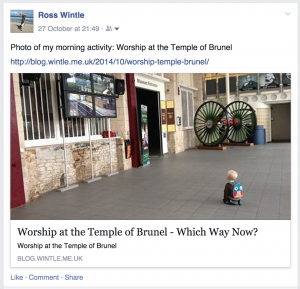 To be honest, you'd hardly know that I've NOT uploaded it to Facebook! And, OK, it doesn't end up in my photo album on Facebook so people can't refer back to it but, that's kinda the point: to have my blog as the photo album and keep the images mine!!!
Anyway…making these posts in my blog was a bit of a faff. You had to create a post, type the title, upload the image and then manually set it as featured, assign a category like "Photos" or something, type tags, set the excerpt (which is normally the same as the title).
'Why…', I asked, 'isn't there a dashboard widget like "Quick Draft" for this?'
Well. Of course, the answer, thanks to a few hours work by me, is: "there is"!
Oooh, that's cool. What else can it do?
Well, not an awful lot just yet. But I'll be creating an options page so that the widget posts, by default, to specified categories and tags, and gives you more control over the excerpt, content, and title usage.
For now, it just kinda works! Which is GREAT!