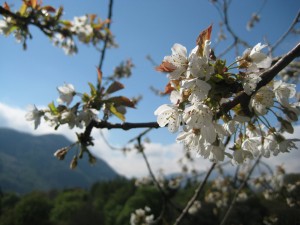 [A holiday worth noting that never got written up – this happened in April 2009 and I'm writing about it in January 2010 so dates are vague]
We did a trip to the Lakes with our good friends the Berry's this month.  Both couples enjoy a good walk so we wanted to introduce them to the delights of fell walking in Lakeland.  They live up North now so it was a good way to meet up.
Loughrigg Fell
We arrived at the friendly and comfortable Hillsdale B&B in Ambleside on Thursday and went straight to work heading up Loughrigg Fell.  Not a particularly spectacular walk, but it was dry and there were some good views.  I was in charge of navigating but I don't really like undulating felltops – it's really hard to work out what the features on the map represent.  Another Wainwright ticked off though and a good introduction for the weekend.
Place Fell
The next day we drove the Kirkstone Pass to Ullswater, parked up between Glenridding and Patterdale and headed up Place Fell.  This was more like it – almost twice as high as Loughrigg and commanding stunning views over towards High Street and back towards the Helvellyn Range to the West.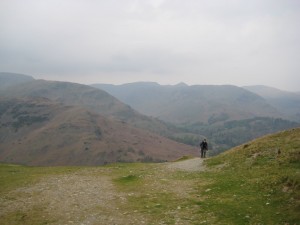 It was tough going but, again, dry and fine.  Pretty pleasant really.  At the top The Berry's introduced us to the art of Geocaching and we found the summit-top cache on Place Fell after scrabbling around the rocky hilltop for a while.
We descended the north-eastern way, circumventing High Dodd (not my choice!) and managing to find a path down from Sleet Fell to Sandwick village.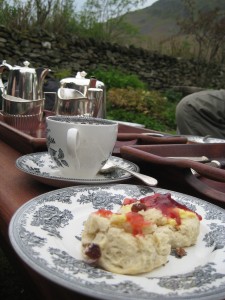 We then took the lakeside path around Hallin Fell to How Town where the How Town hotel awaited.  A very bizarre, upper-class place, with old people who looked like permanent residents, drinking afternoon tea in the plush lounge, while we muddy, sweaty walkers were sent round the back to a small hatch serving drinks.  Excellent drinks.  And excellent scones.  All quite reasonably priced and served to us by a waiter on the front lawn in a very posh-looking tea set.  All quite silly really, but in a very English way.
After an encounter with a man who was very passionate about the fact that Harvey Maps were far better than the Ordnance Survey ones, we headed to the ferry and sailed back to Glenridding.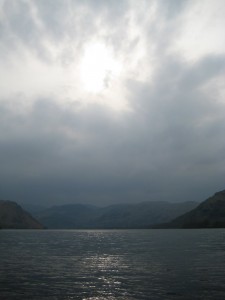 Probably one of my most favourite walks ever.  Fun, great views, variety of terrain, and with tea and a boat trip too.  Marvellous!
Grasmere Geocaching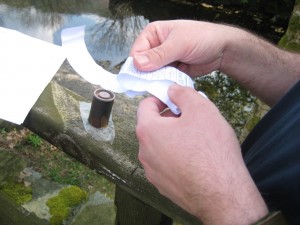 On the Saturday we had a day "off" and ambled around Grasmere. Having had a taste of this Geocaching lark, we had some more potential finds ready to go and The Berry's kindly took us on a little treasure hunt.
We did a "multi-cache" in Grasmere itself, headed out to White Moss Common, and back via lunch on the beach at the Southern edge of Grasmere lake.  WE nearly got caught in a thunder storm towards the end but made it back to the cars with plenty of time to grab some fish and chips.
We really enjoyed this and it inspired us to get a GPS receiver and do some caching of our own.
That's It!
More Geocaching was done on the Sunday before we left but, for reasons I don't remember, I didn't take part (it involved a tiny cache find in the busy centre of Ambleside!).  We finished with a quick trip to Aira Force Waterfall and lunch on the edge of Ullswater again.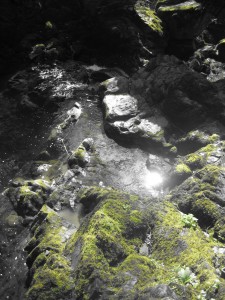 It had been a great weekend inspiring our good friends and being inspired too.  Let's do it again sometime!