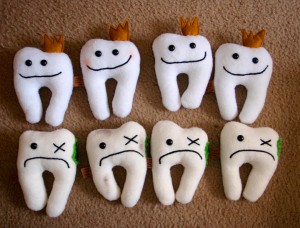 My teeth are pretty good. I had a lot of work done on them to straighten them out when I was younger and I've managed to take good care of them since, and so I don't often go to see the dentist and, until a couple of weeks ago, had had no fillings as an adult.
But when a bit of one of my lower front teeth just feel out while I was sat watching TV, I decided it might be worth a visit.
A short time later I was lighter of pocket, but plus a white filling, after a relatively painless 10 minutes in the chair.
It didn't feel too comfortable, and I was surprised at how sensitive the nerves of the mouth are – a tiny blob of filling felt like a huge alien residing on the back of my incisor.  From the word go I was never really convinced that it had been done well, but I'd not had a filling before, so I was willing to accept it and "get used to it" as people kept telling me.
I was proved right when, during the weekend after Christmas, it fell out while I was brushing, taking some more tooth with it.
Question is, do I go back to the same guy and get another potentially bad job done?  Or shall I find someone better?  And can I get a refund on a dodgy filling?