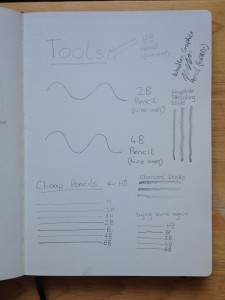 I hadn't realised, but I neglected to post an update to my original "Sketching: Tools" post. When I wrote that I had some nice pens, including, my favourite things: grey markers at various percentages of darkness.
That post ended with me saying that I needed some pencils and, well, you'll be glad to hear, I now have some. I've had them for a while, of course.
I've bought a nice tin of 6 pencils ranging from just HB to 4B. But I also bought a cheaper, but more complete pack of pencils and other funky things like charcoal sticks and this weird woodless-graphite pencil.
I've been trying them all out. I don't think the posh/cheap pencils seem to vary in quality much, but I love the variation that you can get with charcoal and sketching sticks.
I also bought a cheaper sketchbook, thinking that I could save the nice Moleskin for when I'm a bit better.
So, I guess I'm all tooled up now. Let's get drawing!