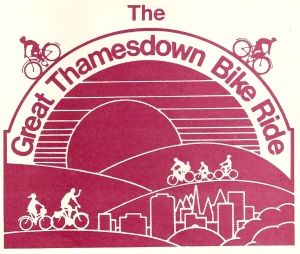 I often tell a story about how when I was 15 a friend and I took part in a sponsored bike ride.  We meant to do 25 miles, but when we got to the sign that said "25 miles this way", we carried on, and did the 50 mile route instead.  We did it on cheap mountain bikes, in jeans and t-shirts, and we often found ourselves riding alongside gorwn-up people on "proper bikes", wearing lycra, helmets, and jerseys, and generally looking more like proper cyclists.
But sometimes I find myself thinking "Did we?  Did we REALLY cycle 50 miles?  Were we crazy?".  The honest truth is that I've not cycled more than 36 miles in one go in my adult life!
So what joy it was when I was looking through an old box of stuff that my mum was turning out of the attic, to come across these:
So it seems I really did!