Gosh, this blog has been neglected. Sorry. Time for a post though!
The Wintle household has gotten increasingly grumpy as the effects of small-child-related sleep deprivation have kicked in. We're normally pretty peaceful, happy folk, but Isaac really doesn't sleep well and it's taking its toll.
So I've been grateful to those who have kept me looking on the sunny side.  In particular I've been enjoying Jennifer Begg's "Feel Good Friday" blogs (see "We could be heros" and "If Nothing We Do Matters"). And last night I came across Stuart Witts whose Stay Happy and Don't Die blog brought a smile to my face yesterday.
I love my Twitters followees, and they constantly challenge me in numerous ways to be a better person. Today, I'm challenged to be more positive. Again.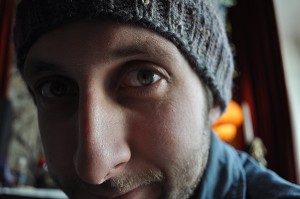 I particularly like Stuarts #lovemyhat project. A somewhat silly, very fun, pleasingly creative and highly positive month of millinery – like Movember for headgear. (I hope he doesn't mind me thinking it was 'somewhat silly' and I fully appreciate the seriousness of hat wearing – check out my Twitter profile pic on the right if you don't believe me!)
And that got me thinking…what silly little creative, fun project might I do? What are the fun little things in my life? Those things that are almost-trivial, possibly slightly embarassing, but that always make you – and others around you – happy?
I think that play is massively important, not just to children, but to adults too. I'm reminded of the Museum of Childhood posters that I saw on Creative Review, one of which is shown above. I'm reminded that play is a blessing. It gets you to let your guard down, open up, show the world – and sometimes yourself – a side that they wouldn't normally see.
So…and this may not be for everyone…I was wondering if we might share how we play.  What silly things do you to to cheer yourself up. Are you a grown man that has a Scalextric in the loft? Is there a book, or toy that always makes you smile? Or a guilty-pleasure of a hobby? Perhaps you climb trees? Or maybe you just go outside at night and gaze in wonder at the stars?
I have lots of things that I class as play that bring joy. I can juggle (5 balls – 3 clubs – 1 devil stick) and do balloon modelling. I used to write really stupid poetry, and memorize the silly poems of others.  I love kids books – I have a complete Mr Men collection, but Roald Dahl, Dr Seuss and The Little Prince are favourites too. And I love to sit and play guitar – I'm not much good, but it's such a great way of winding down and chilling out.
I'm sure I have other forms of play that I'll think of. But that will do for now. Perhaps I should pick up and blog about one of those things some day?
I don't expect everyone to let their guard down and post a comment about how they play. But please stop and think…perhaps, like me, you've forgotten the little, simple things that make you smile. Go find those things and do those things. And I hope that a few might be willing to share too…what's your inner child like? How do you play?