Looking around social media, it often looks like everyone else has their life planned down to every last car-refuelling and bathroom-cleaning activity. But it's not true!
And after a two-figure number of years of being married, my wife and I have kinda figured out that we can't read each other's minds! Who knew?!
What we realised – probably actually a long time ago, but it crystallized in its practicality recently – was that we quite often have expectations of what we will get done in a given day, and that we carry these expectations in our heads, totally unspoken.
I might wake up and think: "I need to mow the lawn, put petrol in the car, and take all that junk I've been piling up to the tip". My wife might wake up and think: "I need to do that long run or I'll never make it round the half marathon, I need to put in a couple of hours work to prep for a workshop and I wish Ross would put that stuff back in the loft"
So I, kinda on a whim, suggested we get these things out of our heads and on to paper. So I invented the "Family Brain":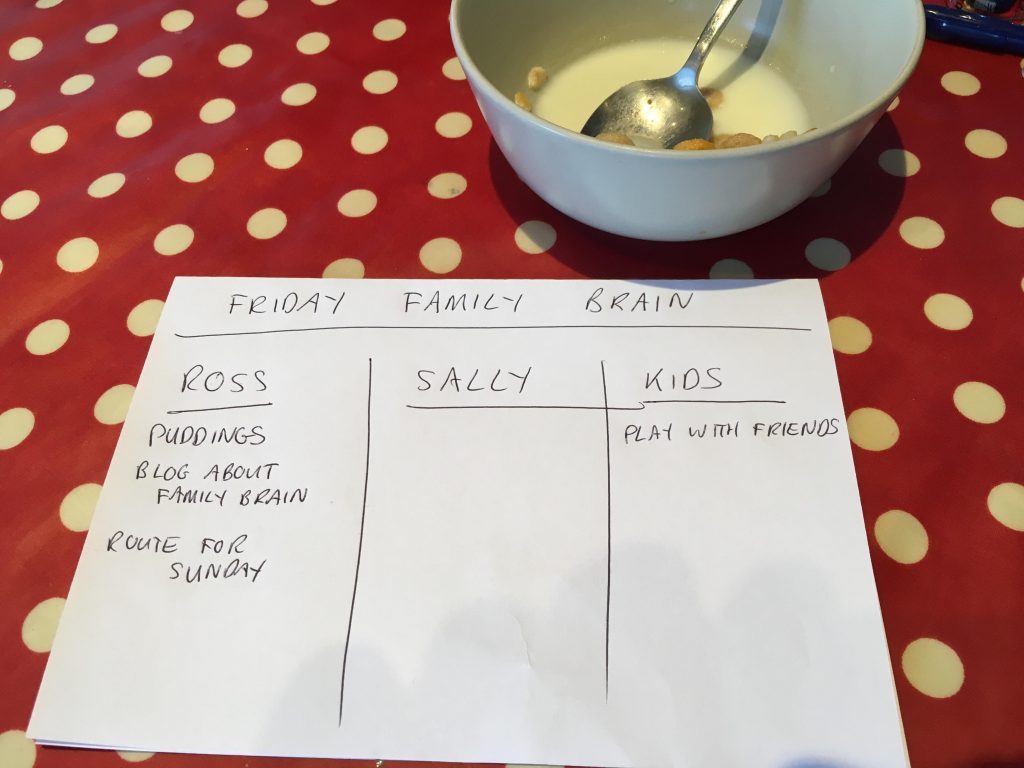 This is literally just a piece of paper with a column for each person. You start afresh each day and write down what you think needs to happen that day.
Once you've done it you might need to actually talk to each other to prioritise and maybe postpone some things. But the Family Brain facilitates this by getting the stuff out of your head.
I thought this was a ridiculous solution, something proper grown up have been doing for years, or simply don't need. But I posted the idea in a Facebook thread about anxiety and brain-overwhelm yesterday and it struck a chord:
"omg the family brain sounds amazing!"
"That family brain idea is genius."
"Family brain is brilliant."
"Love the family brain idea. Funnily enough hubby and I have recently instinctively started doing something similar. I don't know why we assume we can read each other's minds but it's SO much easier having it on paper!"
So I thought I'd get the idea out of a closed Facebook group and into the world.
Now go…share what's in your head!