Gosh – no week notes since February! Partly this is because I wanted to automate the "Pins" part of making weeknotes, because it was a right bind to do manually, but also I just dropped the ball.
But I love my weeknotes, they're useful for me if no one else, and I'm keen to get going with them again. AND I have hope for a couple of new sections:
"This Week I Learned": Some hopefully-hot tip that I picked up this week
"Toolbox": Highlighting a tool (software or otherwise) that I use in my work or life that may be of interest
"The Time Machine": Where I'll try to resurface old-but-popular content
I just got back from a week's camping in the New Forest with my family, and it's all systems go for the last week of the school holidays!
But I had two GREAT days of work in there and exciting things are happening – I even submitted a talk to WordCamp London and will await a response to that nervously.
Projects: what I've been up to
It's been a while, so here's some of what I've been working on in the last few months
I re-launched this site with a quirky new design and some developer-related easter eggs on the homepage! Yay!
I built a WordPress plugin to sync Pinboard bookmarks to a WordPress custom post type, and built my first Gutenberg block, all using vanilla JS and CSS with no build tools!
Started re-making my business website in Statamic! Also with vanilla JS and CSS and no build tools.
Finishing off (but not yet putting live) a mysterious Laravel project involving some in-depth API work. I also love that this project has a proper test suite – it's not 100% coverage or TDD or anything, but enough to give me some confidence.
Continued working on a secret project that I'm VERY excited about that's for probably my best client ever.
Finishing off and go-live of the new website for my local history project, the Rodbourne Community History Group. It looks like a simple Divi-builder site but there's been a LOT of complicated work migrating content in, using custom post types and custom meta fields, ensuring meta-data is as complete as I can get it (extracting content from old HTML into structured data) and stuff like that.
Began and ended a small website build for The Separated Child Foundation. This was also a Divi-builder project but the key here has been squeezing as much value as possible out for the client – who were brilliant! I've been trying to work on bigger projects recently, buy I loved this cause and wanted to use my skills to support the foundation, who are really pleased with the result.
Started work on a re-build of a micro-site for a large charity that I've worked with for years. This is quick-turnaround after a long design phase. Should be done pretty soon.
Helped out a new client with a quick support request which turned out to be a permissions issue. But the kind of thing they needed an expert to diagnose and fix as no-one else could.
Cleaning up a (fortunately simple) malware attack for a client who had a plugin installed with a huge (but limited severity) security hole.
Helping a new client review some at-scale hosting proposals they had for their new site – this required some quite in-depth hosting and security knowledge and the client were really happy with the result.
LOADS of small support requests and changes for existing clients.
Attended and spoke at WordCamp London (the official video of the talk isn't ready yet, but you can see it from the LiveStream here – I was SO happy with it) and attended WordCamp Bristol.
Was temporarily a Government Petitions Data expert when the Revoke Article 50 petition went live – all because I track petition data!
Posts: things I made
I've written a few blog posts since February
This week I learned
The Dropbox mobile app now has document scanning built in. I used to use iOS Notes app for this but it involved a complicated dance between apps to get it to work. Now I can just scan straight to the right Dropbox folder!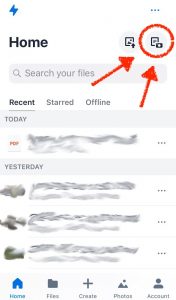 Toolbox
I want to give a HUGE shout out to the Serif Affinity suite of graphics products. I ditched Adobe Creative Cloud a long time ago now, but occasionally I have to work with designers that use Illustrator or InDesign or send me a PDF or something. I don't want to pay for CC just to open these files to get assets and measurements out. And the Serif Suite has been the perfect alternative. They are great products, inexpensive and with a one-off purchase fee. Look them up: https://affinity.serif.com/en-gb/
Time Machine
I'm back on my bike after my holiday, which is awesome. I love my bike and, bizarrely, my review of it is one of my most-hit pages. If you want an super, all-round bike that does everything, goes everywhere, and has a bit of attitude, it's highly recommended.
Pins: things I read and remembered
I won't give you all my pins since February. But here's what I bookmarked in August!
Have a great week!